Image credit: Instagram
Instagram has finally launched it's much-anticipated answer to the growing popularity of the TikTok platform. Reels, a feature now available within the Instagram app for users in the United States and handful of other countries, allows creators to make a multi-clip 15 second video set to music.
If you're familiar with TikTok then you'll get the gist. If not, then there may be a bit of a learning curve if you want to start using Reels for your business (and later I'll share exactly why you should)!
So how do you use Instagram Reels? Let's take a look!
Guide to Instagram Reels
As mentioned earlier, Instagram Reels is a feature that's built into the Instagram app you're already using. Much like IGTV or Stories, you can create and watch Reels right in the app.
The profile page has been updated to include a tab for Reels (the icon looks like a little movie clapboard).
Want to watch some Reels before you try making your own? You can do that on the Explore page. The Explore page now features a huge preview of a Reels video. Tap on the video and you'll be able to swipe up through several Reels.
If you're not familiar with Reels, this is a great way to see how people are using it, and find out what the current trends are. (Trends move fast on TikTok and I expect Reels to be the same!)
*Okay, remember when I said you should start using Reels for your business? The Explore page is the exact reason why! Instagram is making a big push for Reels and they are heavily featuring them on the Explore page, which means it's a chance for your account to be seen and discovered by more users!
It may take some time, but eventually the Reels algorithm will learn the type of videos you like and serve those to you. My TikTok algorithm trended heavily towards cat and Disney videos, of course.
Here are some basic instructions for creating your own Reel (and thanks to my cat for always being such a good photo model):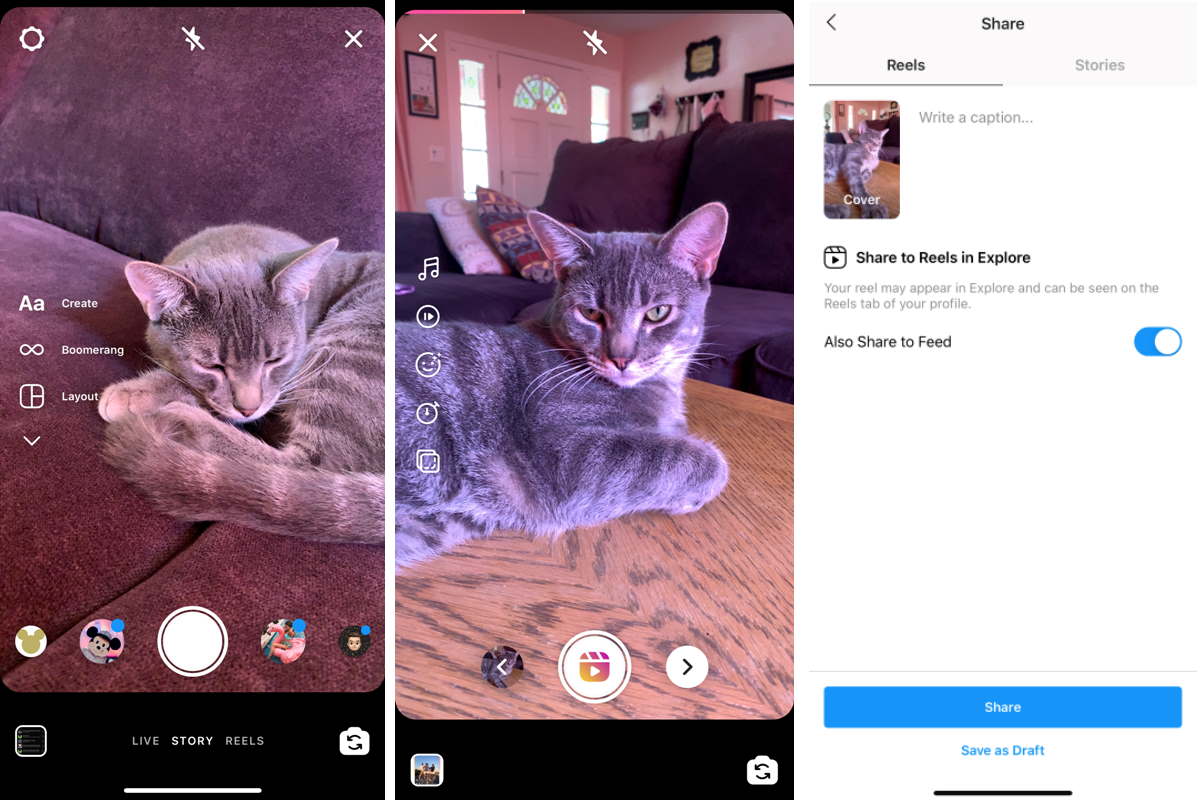 1. Swipe right to access the "Stories" page. Now you should notice at the bottom of the screen you have three options: Live, Story, and Reels. Tap the word Reels to access the creation screen.
2. From here you can record your own video, or upload a video. Note – you cannot upload still images at this time!
3. Before you get started, you should have an idea of what kind of music or sound you want to use for your video. The music/sound is a huge part of what makes Reels so fun and entertaining. Tap on the musical note icon on the left in order to access Instagram's music library. You can also add your own music from your music library on your phone (such as iTunes), you can use an original sound while recording your video (ie, you talking).
4. The second icon looks like a "play" button. This allows you to slow down or speed up your video. If you want to use this, make your selection before you record.
5. The third icon is a happy face – these are filters/effects. Just like with Instagram Stories, you can record your video with a filter.
6. The fourth icon is a timer. You can pre-select how much time you want to record. This comes in handy if you want to time something to music.
7. The final icon shows up once you've recorded one clip. It helps you align an object at the end of your last clip with your next clip.
8. Once you've finished uploading or recording your video, tap the little arrow on the right. Here is where you can add stickers, GIFs, or text to your Reels. Right now, you can only add text or stickers to the entire length of the video. I suspect more features and functionality will be added over time!
9. When your Reels is completed, you have the option of publishing it to your Reels tab only, or to your Reels tab and your regular feed. Publishing to your regular feed will get you some more views and engagement, but you'll have to decide if the Reels fits your feed aesthetic.
Once uploaded, you can tap on your Reels tab on your profile to see all of your Reels videos.
Also, don't forget to use the share icon to share the Reels video in your Stories!
Here's an example of a Reels video I made using still photos. I used the app InShot to create the slideshow, then uploaded that to Instagram Reels and added the music and text overlay.
What questions do you have about using Instagram Reels? Head over to my Facebook Group and join the conversation!