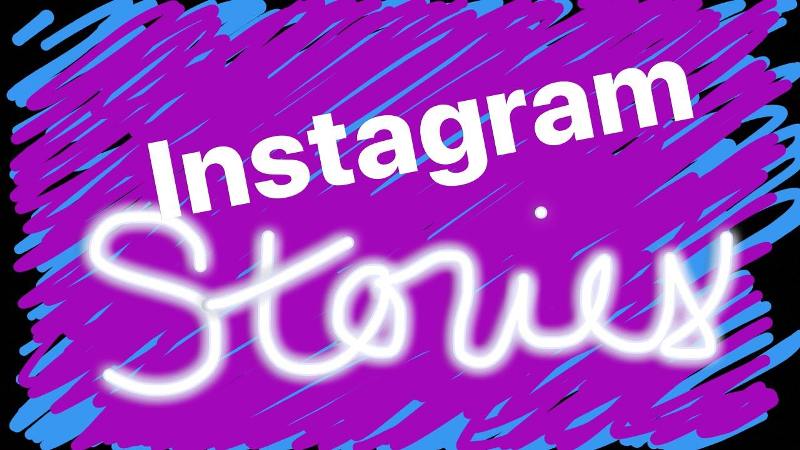 This week, Instagram is rolling out a new feature called Instagram Stories. Instagram Stories is a 24 hour feed of photos or short videos that you create which are separate from your regular Instagram feed. So basically it's like Snapchat.
Here is the introduction Story from Instagram: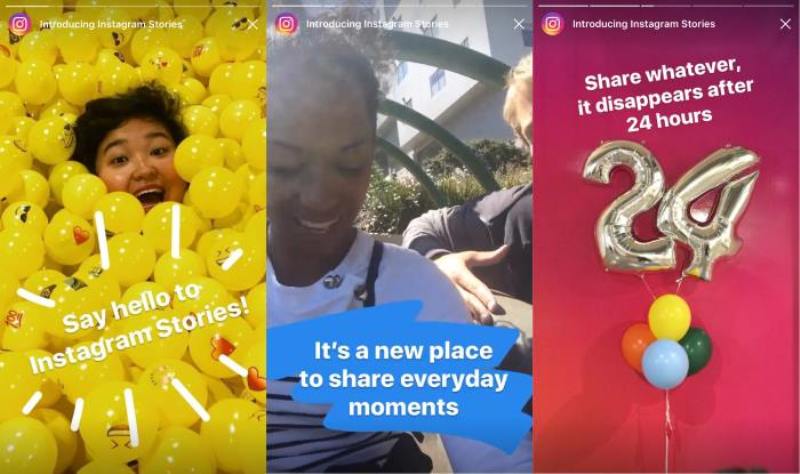 There is a lot of Internet backlash against Instagram Stories for basically copying Snapchat's interface, and it's clear Facebook/Instagram is trying to capitalize on the features that make Snapchat so appealing to its users. I'm not sure Instagram stories will be the Snapchat killer Instagram hopes it will be, but I'm sure it will become a popular feature and a lot of people will start using it. Personally, I'm hoping Instagram stories will serve as a bridge to Snapchat, and once people see how the format works hopefully they'll migrate over to Snapchat where the functionality is much better.
There are two ways you can find peoples' Stories. When you open the app you'll see a row of Stories at the very top of your screen. They will show up as little circles above your regular feed. You can tap on each circle to view that person's Stories. When you reach the end of that person's Stories, it will automatically start playing the Stories of the next person in line.
You can also go to an individual profile page, and tap on the person's profile picture. If there is a story available to watch, the profile picture will be outlined. (Notice in the image above, there's a circle outline around my profile picture.)
Here's how to create your own Story
On the main page of the app, click on the + in the upper left corner.
A new screen will open with the camera. You can switch between the forward-facing camera or the selfie camera.
To take a still photograph, tap on the round circle at the bottom. To take a video up to 10 seconds long, hold down on the circle.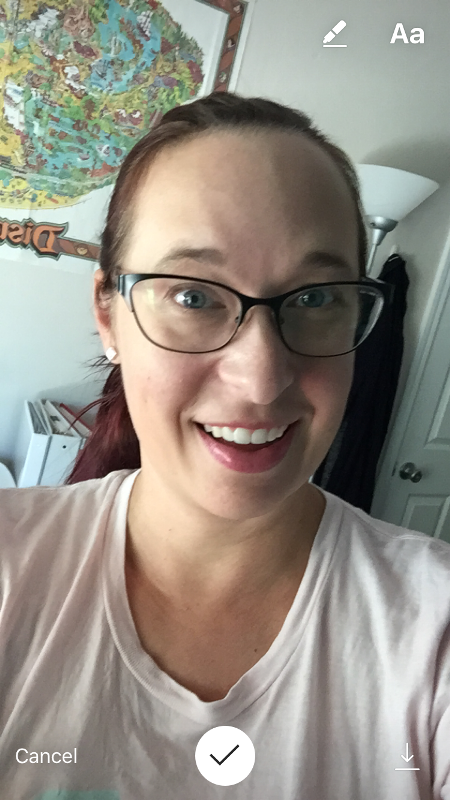 Once your photo or video is recorded, you're taken to a screen where you can do edits. You can add text or drawings or apply a filter.
To add text, tap on the "Aa" icon in the upper right corner. You can move and resize the text by pinching it with your fingers.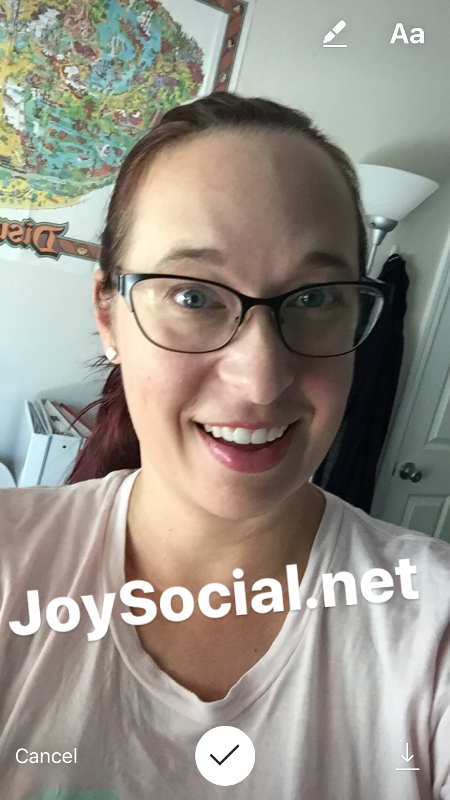 To draw, tap on the pen icon.
You have three pen options – standard marker (as shown above), a style I'm describing as "neon," and a calligraphy style.
You can also swipe right to add filters, although they are not very impressive. And unlike Snapchat, there are no geofilters, date/time/temp filters, speed-up or slow-mo, or – and most importantly – face filters.
When you're ready to publish, tap on the check mark at the bottom. Your image or video will be added to your Story feed and will be available to view for 24 hours. After 24 hours, neither you nor your followers will be able to see that image anymore, so if you want to save it to your camera roll be sure you tap on the save icon before it disappears.
Once your Stories have been published for a while, you'll be able to see who has watched your Stories.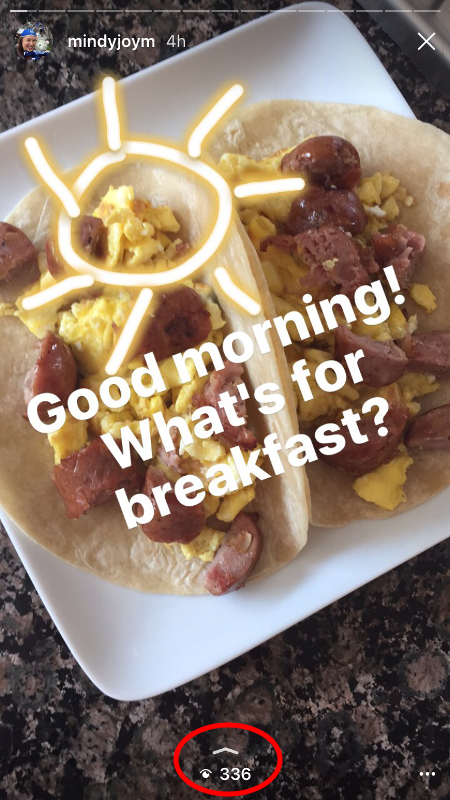 Tap on the number at the bottom to pull up a list of people who have viewed your Stories. From there, you can tap on a person's name to be taken to their profile, or you can scroll through your Stories to see the list of people for each Story. (I blurred out the names on the below image.)
As a viewer, you can send a message to someone while you're watching their story. Just tap on the "Send Message" text in the bottom left corner of the screen. It will pull up your keyboard, where you can type a message. It will end up in the person's Instagram inbox. Unfortunately you cannot send photo/video messages, but one thing Instagram has over Snapchat is that the messages won't disappear after reading them. (Image below from Bridal Boost on Instragram.)
There are also some basic settings for Instagram Stories. To access them, click on the icon in the upper right corner. You can control who can see your Stories (by hiding certain usernames from your Stories), and you can also choose a setting for who can send you messages.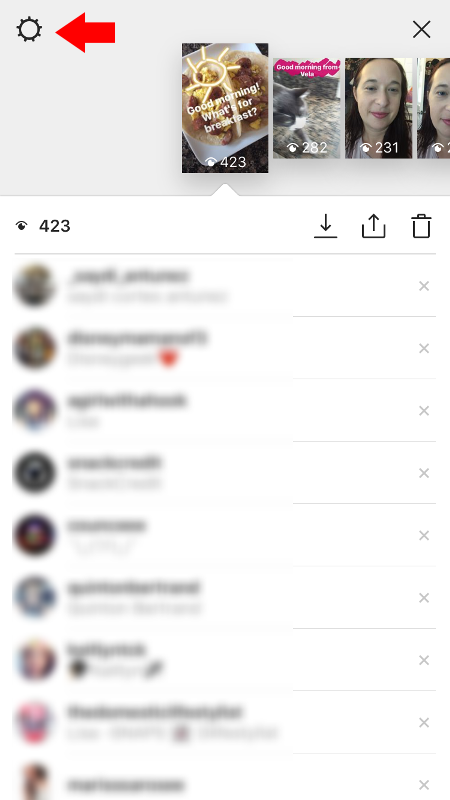 Also, when you are watching your own Stories, you can tap on the ellipses in the bottom right corner to access some options. You can delete your Story (just that one Story, not your entire Stories feed), save the photo/video or save your entire 24 hour story, share it to your regular Instagram feed, or access your settings (as described above).
After using Instagram Stories for 24 hours now, I have to say I enjoy it. I think it will become a valuable marketing tool, but so far it won't replace Snapchat for me.
Are you excited to use Instagram Stories?