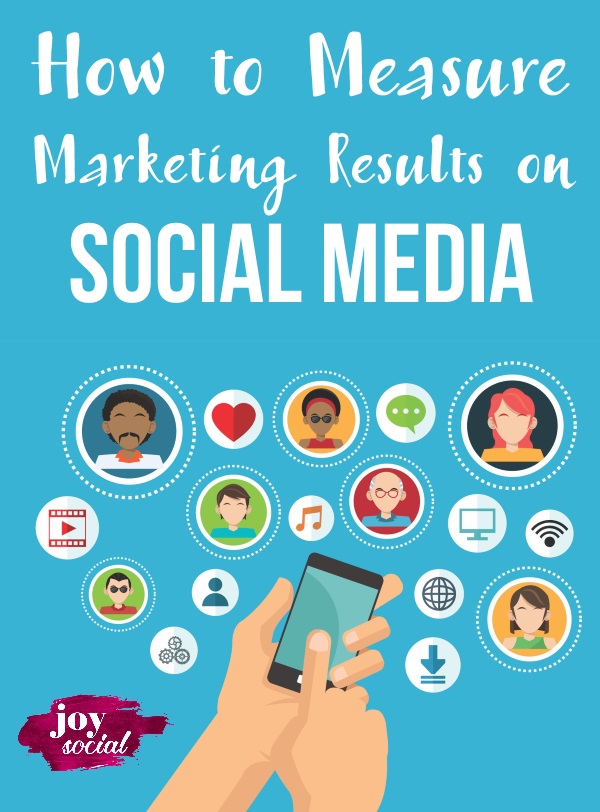 Today I'm going to address one of the questions I hear most often from my clients – "How do I measure the results of my marketing efforts on social media?" I realize this is the million dollar question, and unfortunately I'm going to tell you something you probably don't want to hear: There is no easy answer!
Measuring marketing results on social media is difficult but not impossible. In order to do so, you still have to go through the same steps as traditional advertising – create a goal and assign a value to the outcome – and most business owners simply do not want to put the time and the energy into this. People want instant, easy-to-see results and that's just not how social media marketing works!
A lot of small business owners want to see direct sale results from social media, when really you should be viewing social media as an indirect sales tool.
What does that mean?
A direct sale comes from someone viewing an ad and making a purchase.
An indirect sale comes from someone becoming aware of your brand, following you for a while, becoming a fan of your work and business, and then eventually making a purchase.
Here is an example of both:
Direct sale – Client A sees your ad in a magazine, contacts you, and hires you.
Indirect sale – Client B sees one of your posts on social media thanks to a friend sharing it. Client B enjoys the post and starts following you, even though they don't need your services right now. Client B continues to follow you on social media for a few months because you share valuable and entertaining content they enjoy. Client B reaches a point where they are in need of your product or services, so they contact you and hire you.
I want you to start thinking of social media as an indirect sales tool. Social media helps make people aware of your brand and the follow up actions you take on social media (the valuable content you share) help close the sale.
So how do you measure indirect sales as a result of posting on social media? Well … it's tricky. Nearly impossible. Which is why I'm going to tell you to get that idea out of your head, and change your way of thinking about social media.
The best thing to do is to set other goals, aside from sales. Goals that can be directly measured.
Here are 5 suggestions for setting tangible goals and measuring results on your social media efforts.
How to Measure Marketing Results on Social Media
1. Increase Followers

Here's some real truth for you … if you have less than 1000 followers, you're going to have a tough time measuring any kind of marketing results because your sample size is too small for this purpose. I'm not saying this to hurt feelings, or saying that accounts that have under 1000 followers are hopeless or "small" – that couldn't be farther from the truth! My own Joy Social Facebook page has way less than 1000 followers. BUT, for the specific purpose of measuring sales results, a sample size under 1000 isn't going to yield very reliable data. It's like if you tried to predict who was going to be the next president by polling under 1000 people.
If your following is under 1000, your main goal should be to increase your follower count. Don't fret much over comments and shares, and certainly don't expect crazy results from any sales campaigns. Focus on growing your following first and foremost. If your following is under 1000, a good goal is to work on increasing your follower count by 10 followers a week. If your following is over 1000, aim for 30-50 new followers a week.
2. Site Traffic

Another great goal is increasing the number of hits to your website. The purpose of your social media accounts is the lead people back to your website, and the law of averages says the more people who visit your website, the higher chance you have of landing a sale. A great goal is to increase traffic to your website via social media by 10% every month. You can use Google Analytics to measure these results.
3. Increase Reach

Increasing your reach across Facebook and Instagram is pretty simple – just post more! Reach also grows if people interact with your posts, so make sure you're posting things that are interesting. Want a big goal? Aim to increase your reach by 50% each week!
4. Assign Number Value to Likes, Comments, and Shares

Here's an EASY way to measure social media results. Assign a number value to the likes, comments, and shares you get on your Facebook posts.
Likes – 1 point
Comments – 3 points
Shares – 10 points
Shares are the Holy Grail because shared posts introduces your brand to new people, so I assigned Shares a very high value. As for your goal, aim to always get more "points" than the week before. If you have a smaller account, start with a goal of 20 points per week. Obviously the more you post, the better chance you have of meeting your goal.
5. E-mail Newsletter Signups

It's always a good idea to focus on your e-mail list. One suggestion is to create some kind of freebie for new email subscribers, which you can promote across social media. Set a goal for one new e-mail subscriber every day!
***
If you fall short of your goals, it doesn't mean social media marketing doesn't work. Everyone has good weeks and bad weeks, and a bad week doesn't mean your strategy isn't working. However, if you find you're consistently not reaching your goals week after week, don't lose faith! It simply means your efforts and goals should be re-evaluated and tweaked a little.
Don't forget to join my private Facebook group, Social Media Tips for Awesome Biz Owners, where you can discuss your social media marketing strategy with other small business owners.
As always, if you have any questions about this topic, please leave me a comment below or send me an email. I'm here to help you succeed on social!