You have probably heard of Chrissy Teigen. Supermodel, actress, author, one half of a celebrity power couple. But you may not know she completely slays the social media game.
Chrissy has built up a legion of fans and followers – over 10 million on Twitter and nearly 20 million on Instagram – simply by sharing her life and being herself.
Sure, part of that large follower count is the fun of us regular ole folks getting a glimpse into the life of a celebrity. But the reason why people stick is around is because Chrissy is the real deal.
She's a real person. She doesn't just share the photoshopped magazine images (although she shares those, too). She makes funny faces, she shares silly videos of her kids, her house is messy sometimes. Her photos aren't all perfectly lit and styled. She's relatable. Perhaps not on the "supermodel celebrity" level, but on the human level.
And, oh man, she is FUNNY. I love watching her Instagram Stories because I know I'm going to laugh.
The truth is, we can't all be witty model author celebrities (sorry everyone), but we can learn a lot from how Chrissy handles her social media. Here are 5 things I love about her accounts.
5 Social Media Lessons from Chrissy Teigen
1. She's authentic. I've always thought authenticity is the most important part of social media. People want to make a connection with you and feel like they are friends with you. Chrissy does this so well. She always tells it like it is and that's why people love her so much. On her Instagram Stories you will often find some no-makeup selfies. After she had her second baby she posted some videos of her "mom bod" to show that supermodels get stretch marks, too. She basically says what we're all thinking.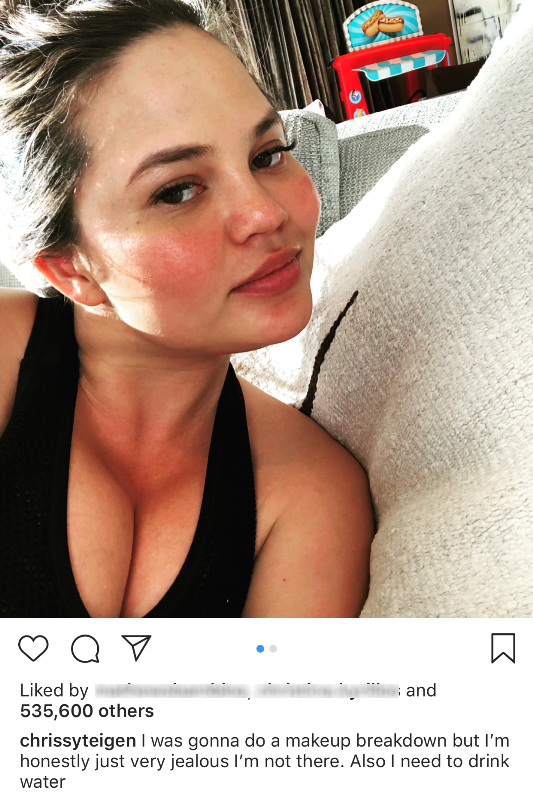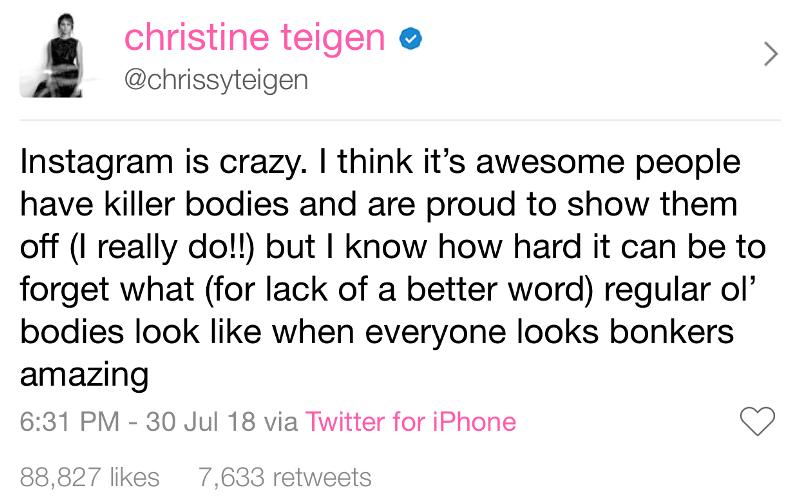 2. She responds to her followers. Your engagement is just as important as your content. Chrissy has authored two cookbooks and loves to chat about food with her followers. She is known to give restaurant recommendations and answer questions about her recipes. She can't possibly respond to every single person who mentions her, but I love that she personally responds to fan questions.
On the flip side, she also isn't shy about talking to her haters. No one can clap back like Chrissy (well, perhaps the Wendy's Twitter account comes close). If Chrissy RTs a hateful comment from you … you're about to have a very bad day. Never underestimate the power of a loyal following.
3. She stands up for her beliefs. Chrissy doesn't back down when it comes to politics or social injustices. This is something I really admire about her, but it helps we generally agree on these issues. I've written before about sharing hot button opinions on your social media, and I believe it's a personal choice to make. However, it does have consequences. Discussing polarizing issues such as politics or religion may lose you some followers or clients. Some people are okay with this, but others feel they don't want to risk it. The choice is ultimately up to you.
4. She discloses! A celebrity disclosing a paid ad? Be still my heart! Yes, it's the law but many, many, many influencers don't follow it. Chrissy is doing social promotions right. It's a beautiful thing.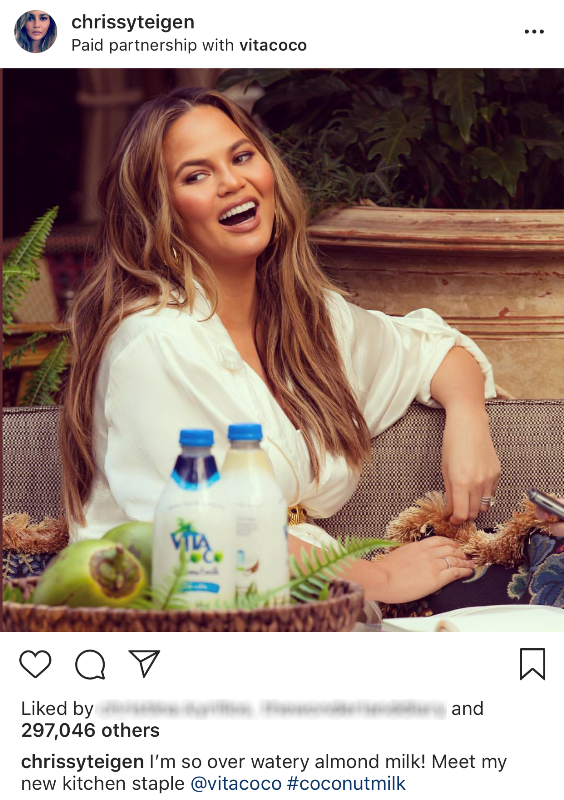 5. She doesn't take herself too seriously. Perhaps the most important lesson of all. Recently she posted an Instagram Story with Biore pore strips on her face. What woman can't relate to that? Social media is supposed to be fun, and I love that Chrissy has fun with it.
Chrissy is a great example of how simply being your authentic self on social media will make people fall in love with you.
What other celebrities do you enjoy following on social media for their authenticity?